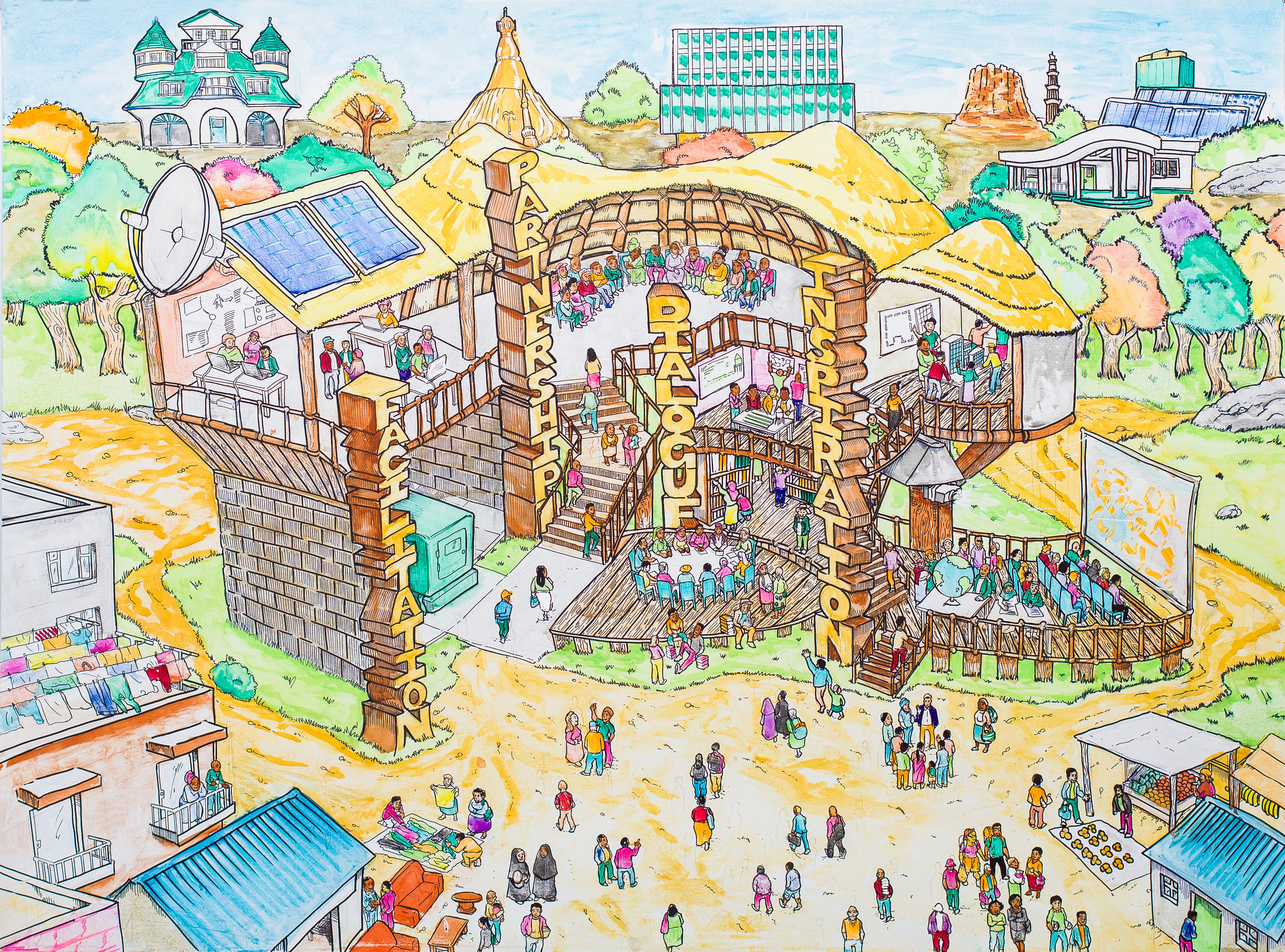 Who we are
Heinrich Böll Stiftung is a German Political Foundation affiliated with the Green Party in the German Federal Parliament. We facilitate inclusive dialogues, offer expertise and, in partnership with like-minded people and organisations, develop innovative perspectives along the core themes: Gender Democracy, Sustainable Development and Dialogues and Civic Spaces.
What are we looking for?
To accomplish our goals in the region, we are looking for a self-driven and experienced individual to join our Right to Food Programme, called the Human Right to Food Initiative (HRFI). 
The successful candidate will:
Lead on brand building and brand communications, including content planning and reporting
Be the custodian of HRFI communications content through its website, all social media channels and publications
Act as the spokesperson in front of the media
Establish and maintain relationships with journalists and bloggers
Provide leadership in the conceptualization, planning and implementation of programme activities, supporting partners as needed
Contribute to the overall HRFI programming and strategy
Support programme budgeting and monitoring.
A. Major Duties and Responsibilities:
The Brand and Media Coordinator is responsible for developing, coordinating and implementing all communications that fall under the HRFI programme, which includes activities directly related to brand building, content generation and media engagement. This will be undertaken in accordance with the Gender Oriented Programme Planning (GOPP) scheme to assure smooth implementation of HBF's own initiatives as well as partner-led projects.
Responsibilities of the coordinator include:
Project planning:

Provide a specialist overview and build expertise on the relevant sector
In consultation with the Lead Programme Coordinator (LPC), analytically assess incoming project proposals, record either under rejected proposals or providing first response and continue with detailed project planning
Actively solicit and motivate for proposals
Participatory and gender sensitive strategic planning of all activities
Targeted support of partner organizations in proposal writing when necessary, including collaborative development and approval of work and budget plans. Develop project documentation for each partner-led project.
Conceptualise HBF own-activities, develop corresponding project strategy and implementation approach.
Develop activity documentation for HBF own-activities including budgets
With the HRFI team, develop ideas and strategically plan possible activities, especially looking at how to link with other HBF programme components.

Implementation:

Providing project support through advice, assistance in problem-solving and regular communication with partners.
Deal with partner correspondence and maintain a partner-related filing system.
Liaising with project partners on all administrative and financial issues and dealing with problems that may arise
Organize forums relating to the HRFI Programme in close cooperation with the HRFI team, the HBF Programme Officers, the HBF Communications Officer and other colleagues from the support team, including identification of resource persons, moderators, panels; preparing guiding points for each presentations; critically discussing papers with resource persons; analysing discussions and debate of each forum for publication.
Responsible for instigating, implementing, managing and monitoring all elements of the HBF HRFI activities strategy per 1(f) and 1(g) above within the context of the HRFI programme including:
Strategic
Contribute to the overall HRFI programming and strategy
With the HRFI team, develop the branding and media approach to ensure all aspects of the HRFI programme are integrated, aligned and complimentary.  
Brand Building
Custodian of the initiative's website (maintain the website front-end and processing public submissions from the website back-end)
Search engine optimisation and website analytics reporting
Database management (newsletter, as well as wider stakeholder network)
Stakeholder relationship management.
Brand Communications
Content planning and reporting
Write and commission articles for the website blog
Develop and distribute regular e-newsletters
Write or commission and submit articles to other publishing platforms
Develop social media content and manage ongoing engagement and monitoring on social media channels 
Directly create or oversee graphic design as required for the initiative's brand communications
Media Engagement
With the HRFI media partner, develop and action a quarterly media plan
Proactively identify and pitch proposals to mainstream and alternative media spaces
Write press opinion editorials (pre-planned and in reaction to topic issues)
Act as the representative and spokesperson in front of the media
Establish and maintain relationships with journalists and bloggers
Host relevant events and workshops
3. Monitoring and evaluation: In collaboration with the LPC, develop and apply participatory monitoring and evaluation tools, including project and programme indicators or guiding questions. This includes financial monitoring and evaluation and implies regular communication and field visits to partner organizations in order to provide inputs and support in implementing the activities. Organize external evaluations of project partners, as required from time-to-time.
4. Reporting: Work with the LPC, to report timely on programme progress, project activities and evaluations, according to the reporting time frames designated by the Director. This includes accurate financial reporting and contributing to bi-annual programme reports that are submitted by the LPC.
Fund management:

Ensure that the regulations of HBF and the grant providing agency are observed and abided by when implementing projects, measures and activities.
Allocate and administer programme budget through the funding of activities according to the programme strategy and objectives;
Request project partners to submit their annual activity and financial plans in time and submit the final version to the finance department;
Document, monitor and report budget expenditure, including check of financial vouchers and supporting documentation submitted by project partners for material defects and verification of factual correctness;
Request project partners to submit their quarterly fund requests in time
Input to the quarterly fund requests submitted by the LPC;
In collaboration with the LPC, maintain and update database for allocated projects and budgets (project overview and project folders).

Contract management:

Partner-led projects: Develop and oversee the implementation of contracts including receiving reports, monitoring progress and ensuring that activities complement the objectives of the programme;
HBF own initiatives: Develop financial memorandums and procurement documentation that support the selection of consultants / tenders and assist the Director in authorising the project / activity. Oversee the implementation of honorarium contracts.

Assessment and analysis: Assess, based on analysis of monitoring and evaluation data, whether implementation of strategic activities has contributed to the achievement of HBF's overall strategy for the Human Right to Food Initiative.
Research: Work with the HRFI Programme Researcher and / or external research done by project partners to make use of HBF-funded research through relationship brokering, logistical support, dissemination of findings where appropriate and identifying the next steps in using the research findings. In particular, this will include streamlining research into evidence-based communications for the HRFI Programme.
Work organization: Submit and implement work plans to the LPC for agreement and assessment at regular intervals.
Representation and participation: 

Represent and promote HBF's strategies and principles at stakeholder meetings, networks, conferences and other events;
Deal with both casual visitors and those on organized programmes, and providing support to the HBF in developing such programmes;
Develop and maintain a list of relevant contacts for the HRFI Programme in the HBF contact data base;
Actively participate in internal management meetings, team and programme meetings, HRFI team status meetings and other internal communications.

Relationship Management: Coordination and relationship brokering within government organizations, donors, civil society organizations (including relevant NGO networks), private sector and academic institutions relevant to the achievement of HBF / HRFI programme strategy. Facilitate networking between partners and HRFI stakeholders, including through the convening of occasional formal and informal meetings.
Information sharing: Compile, share and make available information resources relating to the focus topics and activities of the HBF regional programme, including especially the HRFI Programme in Kenya. This includes media sources (newspaper clippings, documentaries, radio shows), academic papers and relevant publications.
Work on HRFI Programme approaches: Comment and/or develop relevant related documents either produced by HBF headquarters, or from other sources, in cooperation with the LPC or Director.
Communications: Regularly provide inputs/reviews, news items, short articles, and other suitable materials to the HBF Communications Officer for publication through HBF's communications channels (website, newsletter, social media, etc.).
Carrying out any tasks assigned by the LPC or Director.
B. Working Relationships:  
Internal: The HRFI Programme Coordinator (PC) – Brand and Media is under the general supervision of the Director and under direct supervision of and reports to the LPC. Appraisals are conducted in collaboration between the LPC and the Director.
Interacts frequently with focal point at Africa desk at HBF headquarters and relevant department heads in the HBF Africa offices. Consults and shares information with other Programme Coordinators in the team, also to ensure gender cross-cutting in activities under the HRFI Programme. Works collaboratively with technical advisors and relevant consultants. Reports financially to the Finance and Administration Coordinator. Interacts regularly with other office staff and works closely with interns who may be assigned to the office from time to time.
External: Interacts regularly with programme partners, relevant stakeholders and network organizations from government, NGO, private and academic sector in the region.
Requirements: Successful candidates will have minimum three years' experience in a similar role and hold at least a Bachelor's degree in journalism, mass communication or a related field. Candidates from the development/civil society sector are encouraged to apply.
Salary bracket: KES 2.7M to 3M annually plus benefits. To apply, send only your CV and motivational cover letter (no certificates) to recruit@platinumadvisory.co.ke. We are an equal opportunity employer. Only shortlisted candidates will be contacted.
Position will remain open until filled.