Job Announcement
We are looking for a dynamic individual who is passionate about social and environmental justice and brings substantial experience in developing high-impact visibility campaigns, media engagement and public relations.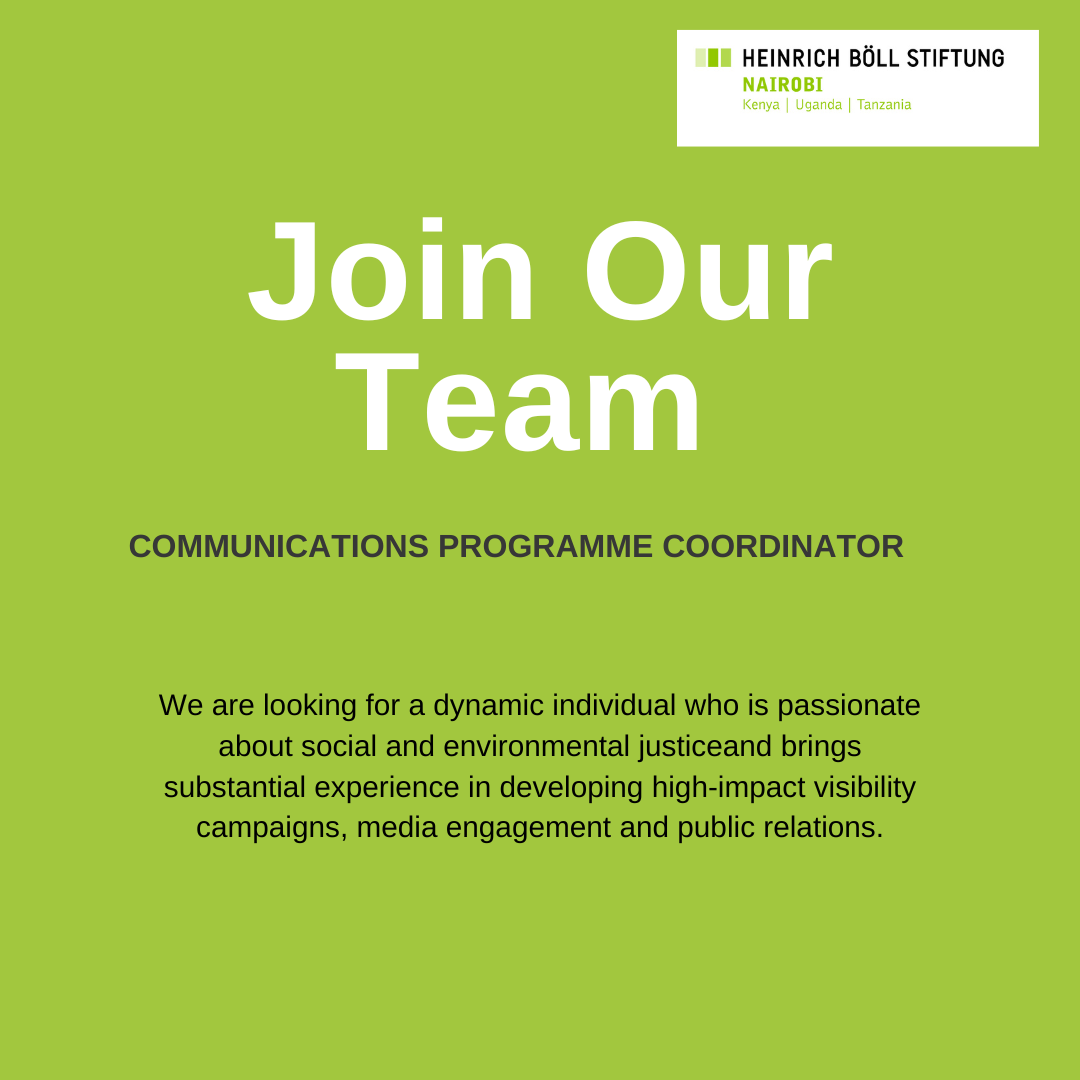 The Heinrich-Böll-Stiftung (hbs), a non-profit organization, is part of the global Green movement headquartered in Berlin, Germany, with a footprint in over 30 countries.
The hbs Nairobi Office opened in 2001 and focuses on programmes in Kenya, Uganda and Tanzania that seek to advance progressive political and socio-economic transformation. Our thematic components include Sustainable Development, Gender Democracy, Dialogue and Civic Spaces, Agroecology and Food Rights.
To amplify our programme work, we support coordinated civic engagement and political/policy dialogues, research, publications and strategic communication.
The hbs office in Nairobi is looking for a full time Communications Programme Coordinator who will be responsible for developing, coordinating and implementing the foundation's communications strategy, which includes activities related to brand-building, strategic content placement and developing creative materials.
We are looking for a dynamic individual who is passionate about social and environmental justice and brings substantial experience in developing high-impact visibility campaigns, media engagement and public relations.
This is a position based in the hbs office in Nairobi, Kenya.
Responsibilities / what you will do:
Develop, implement and monitor a visibility and communications strategy for the hbs Nairobi, including the supervision of one additional member on the communications team.

Work proactively with the Nairobi programmes team to conceptualise campaigns, using the media to strategically amplify content and drive programmes among desired target groups. This includes a demonstrated ability to distill technical information into key messages and creative formats (illustration, infographics, animation, video).

Directly develop, or oversee the production of, content for the hbs communications channels (website, social media, newsletter). This includes guidance on the graphic design and layout of the foundation's publications in accordance with brand guidelines.

Oversee the performance of the hbs website and social media assets, including online engagement and relationship management with hbs newsletter subscribers and social media followers.

Coordinate media engagement activities including but not limited to, developing press packs, writing opinion editorials and story pitches, handling media queries, hosting press 

briefings or media sensitisation events. International media experience and networks are considered an advantage.

Establish and maintain relationships with journalists, editors, bloggers and social media influencers.
As relevant to experience level, represent the hbs in media interviews and public events to contribute to programme / campaign objectives.

On a needs-basis, provide support to the foundation's project partners on communications- related tasks, including media training.

Coordination and relationship brokering within government organizations, key political

actors,

donors,

civil society organizations (including relevant NGO networks), private sector and academic institutions relevant to the achievement of hbs programme strategy. Facilitate networking between partners, including through the convening of occasional formal and informal meetings.
Requirements / what you will bring:
A Masters Degree in journalism, media, communication, social sciences or related qualifications.

At least seven (7) years of professional experience in the field of journalism, public relations, communications / marketing, campaign strategy, or similar.

Experience handling politically sensitive communications, including crisis communications and response management

Excellent oral and written communication skills, including a demonstrated ability to engage with the media on a variety of channels.

Experience in leading strategy, campaign development and implementation

Experience in producing effective and creative communications materials including packaging content in many formats: from writing blogs to news articles, producing high- quality reports and practical factsheets, shaping speeches and video scripts, developing strong infographics and simple diagrams, as well as creating clear messaging for campaigns.

Ability to write flexibly for different audiences, with content ranging from science-based to creative and emotive.

Experience in generating content for the web, social media and e-newsletters and generating

analytics if necessary.

A wide network of media contacts.

Experience in contract management and financial reporting according to basic principles of accounting.

Exceptional project management skills and demonstrated experience working with flexible timelines and clear deliverables.

Ability to successfully work on multiple priorities concurrently, including having strong planning and organizational skills, and ability to work well under pressure.

Ability to work both separately and in close coordination with a team.

An interest in and commitment to social justice, feminist democracy, human rights and sustainable development.

An ability to build and nurture positive, professional relationships with people from diverse

 

backgrounds and experiences.
What we offer:
We offer a challenging, creative and intellectually stimulating career experience as part of a global network of professionals that drive social innovation, transformation and political change. We believe in honoring our staff's commitment to our work and vision, providing opportunities for the professional and personal growth of our team members. Salary will be based on industry norms commensurate with skill and experience. Benefits include insurance and pension schemes.
Application process:
Please email your application to (ke-hr@ke.boell.org) with the subject line, Application: Communications Coordinator
Include a detailed CV with at least three references and a short motivation letter. Persons with disabilities are encouraged to apply.
Published on 16th January 2023. Position remains open until filled. Only shortlisted candidates will be contacted for an interview.