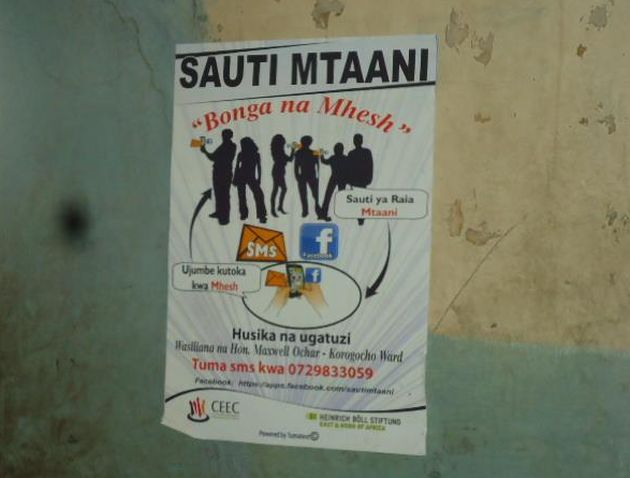 For young women and men, living in informal settlements in Nairobi, the root cause of their problems is exclusion from mainstream development processes, governance and decision making. The fact that their issues are left out of laws, policies and development plans lies at the heart of many human rights violations, youth violence (including gender based violence) and the grinding poverty that most of the youth find themselves in. The Constitution of Kenya 2010 which introduced devolved governance provides for participation of all population groups including youth and women in governance and decision making. However, effective youth participation is hampered by factors such as lack of knowledge, information, skills and platforms for engagement.
Kenya's 2013 elections made the constitutional principle of devolution a reality, creating a sub-national governance level with legislative and executive functions. In 47 Counties, Members of County Assemblies (MCA) are now representing the interests and concerns of their constituents. In principle, government has thus moved closer to the people but in practice, obstacles for effective engagement remain.
Lowering the threshold for such engagement, Community Education and Empowerment Centre (CEEC) with support from Heinrich Boll Stiftung East & Horn of Africa, has been working with youth leaders and members of the Nairobi County Assembly from 12 wards in four informal settlements to promote youth civic engagement. Both the youth and the MCAs have been trained on the duties and responsibilities of MCAs vis-à-vis citizens' civic rights and responsibilities. Subsequently, the youth leaders together with their MCAs launched Sauti Mtaani - e-participation platforms to facilitate engagement through SMS and facebook. Young women and men from Korogocho, Mathare, Dandora and Mukuru can now reach their MCAs by sending text messages or posting their concerns on Facebook and the MCAs can respond from any web enabled device.
Most youth in the participating wards have lauded the platforms as being unique and youth friendly. In all the participating wards, the , youth have  raised issues such as flooding, youth projects, bursaries, Uwezo fund, lack of jobs,insecurity, missing street lights and conditions of roads with their MCAs. Not all the MCAs have embraced the project but those from Ngei, Mathare North, Korogocho, Pipeline, Mabatini and Kwa Reuben wards have been addressing the issues raised in their respective wards. The MCAs from Pipeline, Korogocho and Ngei have expressed their appreciation for the platforms which in their own words enable them to identify problem areas and to steer the design of youth projects. They feel that the platforms are helping them to do their work since they cannot physically reach all the corners of their wards.
Sauti Mtaani is an innovative way of engaging young people where they feel most at home,  in the social media arena. Now it is up to elected leaders to meet them there.