Article
The 2017 ban on plastics is yielding positive results in the form a cleaner environment. However, the search for environmentally-friendly and affordable alternatives to plastic carrier bags is still on.
By Geoffrey Odhiambo Onyango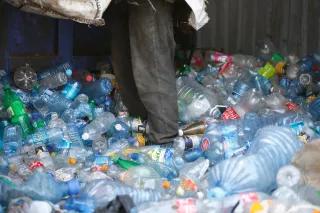 The raging Covid-19 pandemic has increased the demand for home deliveries in Kenya.
A big chunk of these deliveries are made using plastic packaging materials, including oxoplastics and bioplastics, whose disposal puts more pressure on the environment
According to the United Nations Environment Programme (UNEP), oxoplastics, in the past considered a great discovery, have caused several environmental challenges including disposal due to their non-degradable nature.
Oxoplastics are made from petroleum polymer (polyethylene) and are used in a range of products in agriculture, packaging as well as refuse and decomposing sacks. They contain special additives that make them to biodegrade. 
Biodegradation is considered an effective option for the eco-friendly disposal of plastic waste because it is environment-friendly. During this biodegradation, the waste should take the shortest time to decompose to prevent it from accumulating in the environment.
Bioplastics, on the other hand, are derived from plant and or microorganisms as opposed to fossil fuels. In general, bioplastics are produced from natural polymers occurring in micro-organisms, plants, and animals. They are then broken down with the help of a catalyst into polylactic acids, a substance that can be used to make water bottles, various food-grade containers as well as films.
Bioplastics are therefore degradable and reusable. Although they release carbon dioxide when decomposing, this is considered zero-sum carbon dioxide emission. They support the reduction of greenhouse gases and consume 65 per cent less energy than that consumed in the production of petrochemical plastics.
Kenya turned to bioplastics after the ban of single-use plastics. But according to the Kenya Association of Manufacturers the complex nature of bioplastics creates difficulties in collection and recycling processes.
Back in 2019, the manufacturers association warned that if Kenyans did not change their waste disposal attitudes, more bioplastics would end up in landfills, incinerators and pose greater risk to marine life.
This prompted the National Environment Management Authority to slap a ban on bioplastics in Kenya. However, the ban was overturned by the courts which argued that there were no set standards for enforcement and that many investors had already heavily invested in bioplastics.
Environmentalists have stressed that Kenya's priorities ought to be on behavioural change of its citizens on re-using and disposal of plastics right from primary school children to adults.
Another alternative to plastics is the use of plant polymers such as sisal, palm leaves, papyrus and baobab. In Kenya, carrier bags made from plant materials have regained prominence in the last couple of years to fill the void left by the ban on single-use plastic bags.
Today it is common to see people carrying these bags in supermarkets and grocery shops during shopping. Although they cost more than plastic bags, the prices can help change the culture of use-and-dump and promote re-use habits.
Then there are cotton fabric bags, commonly referred to as Kitenge bags. These eco-friendly, biodegradable bags have also gained traction among urban and semi-urban population
Despite all these alternatives, environmentalists are still grappling with one key question: What exactly does it take to make the use of alternatives to plastics successful in Kenya?
Following the ban on single-use plastics littering and clogged drainages as well as chocking of water bodies has reduced significantly across the country. But challenges still abound, including poor enforcement and lack of affordable alternatives for single-use plastics.
According to UNEP, the ban on single-use plastic bags has resulted in cases of smuggling of the product through Kenya's porous borders. It has also seen the rise of black markets and use of thicker plastic bags that are not covered under the ban.
More needs to be done to enforce the ban. Plastic bag vigilantes must be constantly on the lookout, from the villages to airports, and tip off government authorities about suspected sale or use of single-use plastics across country. Regional support is also necessary to make the ban work, especially within the Intergovernmental Authority on Development and East Africa Community.
Moreover, both the central and county governments must invest more in solid waste management and generally keeping the environment clean.
Reducing or zero-rating taxation on all imports meant to provide affordable and healthy alternatives to single-use plastics for traders can also go a long way in solving the plastics menace.
Boosting the country's green economy will help mop up thousands of people who lose their source of livelihoods due to the ban on single-use plastics.
According to manufacturers, Kenya lost close to 60,000 jobs after the ban. However, a green economy that makes use of bioplastics has the potential of doubling the number of jobs while protecting the environment. Promoting the use of forest products to make alternatives to single-use plastics will also create more employment opportunities in growing, harvesting, and transporting raw materials.
But, there are many competing interests in forest products that make them expensive alternatives to single-use plastics. Research indicates that plastic bags outperform paper bags on manufacture, re-use and solid waste generation. The paper bag value chain consumes six to ten times more energy than plastic bags.
Paper bags are also heavier, less durable, and more expensive to handle as solid waste. They are more expensive to transport, and need more water to manufacture and recycle which can hurt the environment even further through polluting the ecosystem and fueling deforestation.
Despite this, it is clear that the ban on single-use plastics in Kenya has greatly improved the environment by making it cleaner and safer. The ban has also reduced the cost of drainage-maintenance and waste management in Kenya's major towns and markets and reduced the risks of disease and deaths linked, either directly or indirectly, to single-use plastics bags.
Kenya might not have fully succeeded in completely eradicating single-use plastics, but the effort has been worthwhile, and the list of more affordable and environmentally friendly alternatives is growing each day.
Geoffrey Odhiambo Onyango, is an independent consultant  in matters Land Use (Agriculture, Forestry and Landscape management), BioEnergy and climate change.