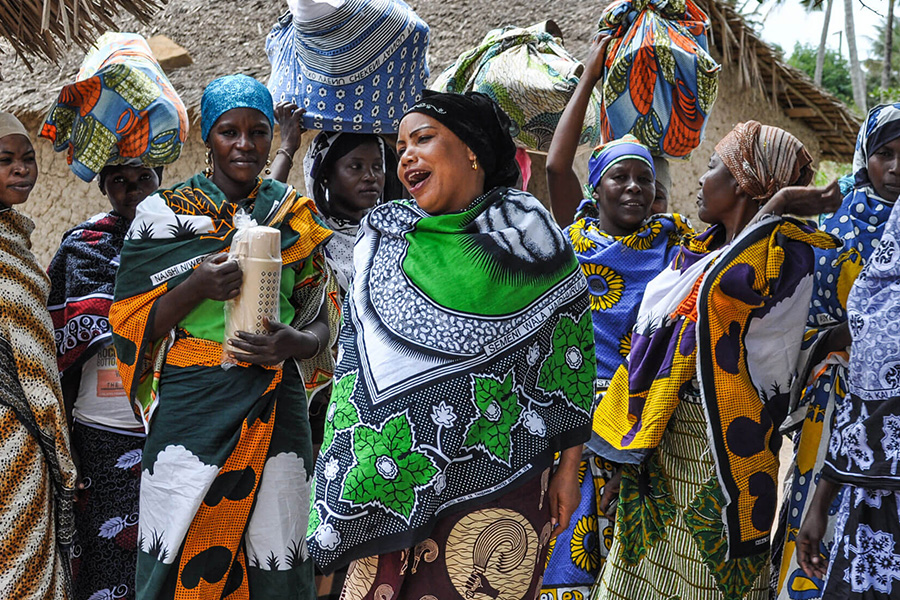 It puzzled me when I talked about election of women leaders in Msambweni and was often met with the question, "what will a woman do for us?" Yet many men and women were of the opinion that women were the 'gate' to winning an election. The puzzle was solved one day during a visit to Mariamu, a woman in her late 60s. Her charming welcoming words vividly warrant one man's description of her trait as a woman with "a sweet tongue that could woe mites from their holes." She looked resolute, composed and ready to speak to me about her participation in political life in the Kenya south coast. Like many of her female counterparts in the village who claim to be progress-minded women, she began telling me how progressive a woman she was: she, with the help of her husband, built a permanent stone house with a corrugated iron roof, cemented floor and metallic doors. For Mariamu, this was a clear demonstration of a progressive woman. "I am a woman who loves progress (maendeleo)," she said. To spice up Mariamu's claims, her husband applauded, "I love her charisma. She is a woman of her own kind, very innovative and hardworking. This house stood because of her. I have a lot of respect for her." To be sure, it is not difficult to identify the house in a neighbourhood where many of the houses are mud-walled with makuti-thatched roofs. Mariamu is herself popular in the village due to her exemplary participation in social and political activities, especially her contribution to children's schooling: she pays school fees for several poor students in the village and seeks sponsorship for others, and the overwhelming support and 'guidance' she offers many politicians (both men and women) in the constituency, including campaigning for them, both individually and collectively with other women. "Many of these politicians have passed through my hands," she brags. Actually women in this community are both mobilizing and convincing agents of elections, and have specific expectations to women leaders. In what follows, Mariamu recounts how women like herself have progressively come to 'have a say' in Msambweni's elections, a context where matrilineal organization has historically transformed, while at the same time provides potential space for women to pursue authority over particular social, economic and political relations.  
Mariamu was the local leader of the Maendeleo ya Wanawake movement in her community when the 1997 elections were about happen. She told me the entire constituency was thirsty for uongozi bora (proper leadership) after a long period of what many people felt was a failed leadership under the then area member of parliament (MP) under the KANU (Kenya African National Union) regime. Mariamu told me that women took advantage of the prevailing political climate to stage a woman contestant. She explained that the women's preferred woman candidate, Marere wa Mwachai, was a recent university graduate, who they felt was better placed to face the male leadership at the time. Her education demonstrated achievement of what was considered a male achievement. She had crossed the male line. Yet, according to Mariamu, Marere did not imagine rising to such an ambitious political position was possible. Marere had neither money nor any means to woe the people. Mariamu and her women colleagues were ready to play the game. They owned the campaign activities and "organized everything." However, considering the patriarchal nature of the community, especially due to Islamic traditions and the underlying matrilineal organization that underpinned male political leadership, these women knew the 'journey' was not going to be an easy endeavor.  According to Mariamu, women were worried, but were very determined to have Marere win the election. They had to be innovative in every way possible, and "speak together and agree with one voice as women!"
The women's campaign
"I stepped down as the local leader of Maendeleo ya Wanawake and Marere was 'made' the organization's new local leader", said Mariamu. Through this position, Marere and her women campaigners reached out to many women who they persuaded to elect a fellow woman. Further, they opted her candidature with KANU, the popular party at the time, and chose to present their candidate as the only hope for the community. Mariamu and her colleagues persistently reminded women of "the pain of bearing a child as a mother", and how a woman leader would help restore that pain. According to Mariamu, these were not just mere political campaign words, the women "meant it!" and strongly believed the community's hope for progress lay in the hands of a woman's leadership: "we announced Marere as women, and herself as a woman". With this spirit, the women spent sleepless nights and restless days campaigning for their candidate. They sought to win the hearts of everyone, but first, their fellow women because in addition to being the majority voters, women, I was told, "have a heart. When you want to succeed, just win women's hearts."
This was not the first time I heard that women in this part of Kenya have a "heart". I had earlier on heard narratives of economic success or failure in many households explained in relation to women's 'hearts'. The notion of women hearts is embroiled with a straightforward spirit and persuasion skill that are considered absent in men, especially where a positive result is desired, or where there is a limitation, for example, as I found out with spending household income and participation in events such as weddings. In light of this, success and failure (economic or political) are complexly explained with regard to a woman's heart.
Mariamu and her friends won the 'hearts' of their fellow women in the community. Then turned to men: "we invited and deliberated with them." The women were shocked by the overwhelming male support for their candidate: "men gave out their vehicles, others gave out money, even others went out and took loans to support Marere." Contrary to the women's fears of patriarchy, Marere won the 1997 parliamentary election to become the first woman in Kenya's coastal region to be elected in parliament.
Elections after the 1990s
Although Marere did not make it to a second term, neither did she win any of the succeeding elections, the complexities of women's mobilization in Marere's election win and the aftermath shaped the very form for elections activities practiced in Msambweni today. According to many people, Marere lost because she 'forgot' her fellow women's 'hearts' after assumption to power. These claims had far reaching effects in relation to election of women, the nature of women's participation in elections and the nature of election exercises. For instance, the situation significantly silenced women's assumption into elective positions, yet women formed the very basis on which election campaigns are organized. Notably, women have since formed the vocal point for success of male contestants for the parliamentary seats and the recent Member of Assembly (MCA) position. As one male aspirant once said to me, "when women here say we are voting in this person, that's it."  
Interestingly, while this has formed the prevailing justification by many people as to why aspirants ought and sought to win women's hearts to successfully win an election, the women's 'hearts' winning game took a male route since the 2002 elections. Male aspirants have since taken advantage of the emergent delicate nature of the conception surrounding women and electoral positions to persuade women, both individually and collectively, to support their campaigning exercises to win elections. Mariamu told me that she received many male political aspirants who sought her 'art of campaigning'. When I asked her of women's support to women aspirants, she exclaimed, "things changed with Marere!" In other words, it has become easier to mobilize fellow women to campaign and vote for men than to campaign or elect a woman. To be sure, women did not participate in elections only in the form described for Mariamu and her colleagues. Women's dance groups (ngoma) and associations (chama) are common spaces for engaging women in political campaigns. However, access to these women's spaces requires careful cultivation of relationships with key women such as Mariamu, through whom other women's 'hearts' are won.
Women in 2017 elections
The 2010 Kenya Constitution offered potential space for women's inclusion in elective political positions in the country. Women in Kenya south coast have identified with this space by contesting the 2017 in commendable numbers compared to the past elections. For example, in addition to the women contesting the Woman Representative position and Deputy Governor in Kenya south coast, several women are contesting parliamentary and MCA seats. In Msambweni, Marere is contesting the parliamentary seat, while two women are contesting MCA positions in two wards (two others lost in the nomination exercise). Yet speaking to Mariamu about women taking up these positions, she commented that it was an uphill task for women to win the 2017 election in Msambweni without first winning women 'hearts'. What is different or particular about women winning women hearts?
I was often reminded that Digo women are keen on stuff such as "a child needs to go school, a daughter has a wedding and her mother needs help with that", and  "a woman just sitting with fellow women." Marere was unable to meet such women's desires that are significantly part of their leadership prescription ideology. "We gave it to her as a gift, she later chose not to listen to us," Mariamu explained. Others were of the opinion that Marere "did not have time for her people" mainly emphasizing that she later looked down upon women who worked with her during her election campaign. However, it is important to note that women assess or evaluate both male and female contestants depending on similar leadership ideologies. Women told me they do not elect "just anyone", underlining that contestants, both men and women, have to qualify an outlined eligibility criteria, at least as outlined by the women.
However, unlike the case for male candidates, women are keen on collective sociality in their description of support for women contestants. In the 2017 elections, for instance, women cited understanding and fulfilling women's desires and expectations that shape their prescriptions of woman leadership as all a woman contestant needs to demonstrate if she is to win the present elections. Women don't want a woman to "just stand there and show off her cloth", or "start pulling her face", or "throwing her mouth", but "show you are one of us [women]". In other words, women are concerned that there is still potential for women to maneuver patriarchal forces to win the current elections if women contestants demonstrate the desire and potential to address social inequalities that exist among women in the community. This rests on women contestants showing their hearts to women, hence winning fellow women's 'hearts'. After all, women and men in this community believe that political success is depended on winning 'hearts' of women to influence men, and not vice versa.
Article by Jacinta Victoria S. Muinde, a Doctoral Commonwealth Scholar in Social Anthropology at University of Cambridge.